About Us - Woodruff Key Manufacturer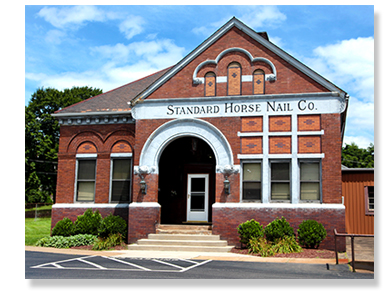 Standard Horse Nail Company, located in New Brighton, Pennsylvania was founded by Charles Merrick in 1872. The company, originally located in Fallston Pa., moved to New Brighton after a large fire which nearly destroyed the company. Merrick, not discouraged, moved his company to its current site and constructed the present buildings during the late 1880's and the 1890's.
Charles Merrick founded his company on the assumption that he could manufacture a better horse nail, and in the late 1870's he perfected new hot forging method with the help of Erastus Pierce. Stanho became one of the largest manufacturers of horse nails in the world, making the largest shipment of horse nails to date in 1914 to Bethlehem Steel Company.
With the invention of the automobile in the early 20th century came a new day for Standard Horse Nail. Silas Merrick, nephew of the founder and M.I.T. educated engineer, saw the potential in this new transportation industry. His friend, Frank Woodruff, had just designed a half moon shaped key which held gears onto a gear shaft and saved gears from stripping, and Silas developed a way of gang milling these keys for the automobile industry in the first decade of the 20th century.
Through the 1950's, Stanho manufactured both keys and nails, as well as other fastening products, but in the 1960's management decided to get out of the nail business because of the steady decline in the world market. Since then Stanho has continued to be a leading manufacturer of fastening products such as woodruff keys, machine keys, gib keys, taper pins, and cotter pins.
Stanho is still operated by two generations of the Merrick family:
Robert S. Merrick Jr., Chairman of the Board
Ryan Merrick, President
Peter Merrick, V.P. of Operations
Staying in the family has helped Stanho retain a personal feel in the growing trend of impersonal conglomerates.