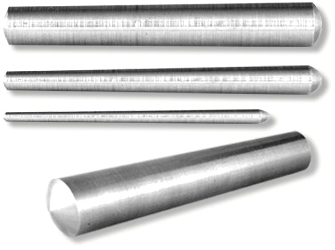 Taper pins are one of the oldest, simplest pin designs in the fastener industry. They are a solid, cylindrical pin with a constant taper that runs the length of the pin used for either fastening or locating. Stanho standard taper pins have a ¼ inch taper per foot and have a machined finish to increase the friction that holds everything together. In addition to standard, we offer threaded, metric and custom taper pins. All of our pins are easy to install, reliable and very cost effective.
Taper pins are primarily used for pumps, in oil and gas applications. They are also used in some electronics, ship building and the aerospace industry. Depending on the particular application, a wide variety of materials can be used to prevent corrosion and to specifically meet the demands for locating or fastening.
Stanho can produce custom taper pins from any material required to meet your application needs. Our taper pins are made from free machining steel, 303 stainless steel, 316 stainless steel and carbon steel. Some of the other common materials include higher carbon content steel and alloys such as high performance nitronic 50 duplex, super duplex, alloy 20, hastelloy or monel.
Technical Specifications
All dimensions are given in inches.
When ordering sizes other than those included in the above list, specify the length and the diameter at the large end.
Standard reamers are available for pins given above the line.
Pins Nos. 11 (size 0.8600), 12 (size 1.032), 13 (size 1.241), and 14 (1.523) are special sizes – hence their lengths are special
To find small diameter of pin, multiply the length by 0.02083 and subtract the result from the large diameter.
Don't see the taper pins you were looking for? Contact us today and we can meet all of your custom taper pins needs. Call us at 724.846.4660 or click here to contact us.