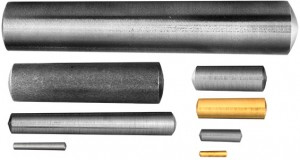 Standard Horse Nail has been manufacturing machine keys and other precision fasteners in the USA since 1872. All of our precision products are produced with the high degree of accuracy demanded by the USA and military standards in all analyses. Stanho precision products offer new concepts in reliability, service, value and quality.
We build strong relationships with all of our customers that are seamless and worry free. Our commitment to quality and unique method of mass production has allowed us to become one of the largest domestic producers of machine keys, woodruff keys, taper pins and other precision fasteners. We are proud of our ISO-9001 certification and being TS-16949 registered, both of which ensure the continuous improvement of our product quality and customer service.
Some of our capabilities include milling, both vertical and horizontal, turning, cut-off, grinding, drilling, taping, threading, knurling and many other processes. We also offer precision cutting and custom machining services.
Standard Sample Pin = Pin Number X Taper Length
Non-Standard Sample Pin = Large Diameter X Taper Length
Standard Taper 1/4″ to 12
When ordering sizes other than those included in the above list, specify the length and diameter at the large end.
Standard reamers are available for pins given above the line.
Pins nos. 11 (size .806), 12 (size 10.32), 13 (size 1.241), and 14 (size 1.523) are special sizes — hence their lengths are special.
TYPES: COMMERCIAL TYPE
Sizes: 7/0 to 14
Tolerances on Diameter: +0.0013, -.0007
Taper: 1/4 inch per foot
To find the small diameter of a pin, multiply the length by 0.02083 and subtract the result from the large diameter.
For more information about our standard steel taper pins, call us today at 724.846.4660 or click here to contact us.